News
EPS will be exhibiting at upcoming shows around the country this year. In January we will be at IPPE and invite you to stop by our booth. IPPE January 25-27 2022 (Atlanta, Georgia) Booth # C12765 At the IPPE show we will feature Nowicki defrost tumbler systems, CelsiusFOOD teflon belt…
Read more…
EPS will be exhibiting at upcoming shows around the country this year. In November we will be at Process Expo and invite you to stop by our booth. Process Expo November 2-5 (Chicago, IL) Booth # 2067 At the Process Expo show we will feature Nowicki defrost tumbler systems,…
Read more…
Automatic Industrial Container Washers Type MPA-1200
Automatic Industrial Container Washers Type MPA-1200
Metalbud NOWICKI MPA-1200 high capacity automatic industrial container washers minimize consumption of media yet still maintain high wash quality.
MPA-1200 tunnel washer is designed to wash containers of maximum dimensions 27.5" x 23.5" x 15.5" (L x W x H) of efficiency, 1200 containers an hour. It provides effective washing and disinfection process with very low media consumption. Equipped with extremely efficient container blow-off system. The container washer is easily adaptable for use with an automatic warehouse of containers.
Construction advantages of MPA-1200
work mode: pre-wash section, washing section, rinsing, steaming (optional) and air blow-off system
plate link chain
closed water circulation system with filtration system, self-cleaning rotating filter as an option
output on plastic containers: 1200 per hour (15.5" × 23.5")
two water tanks with 450 liter capacity
automatic chemical dosing pump with concentration display
stainless steel nozzles with easy to disassemble washing manifolds, numbers of nozzles
water heating systems: electric, steam, steam-electric, oil, gas, water or steam exchanger
automatic water temperature control system
gravitational, self-regulating pressure top rail
air blow-off module with 8 ventilators (option)
side guards open up
guards protection against accidental opening
Touch screen control panel:
easy to use color 5.7" touch panel
switch the pump on and off with operation signaling
turn the conveyor on and off together with smooth speed regulation and operation signaling
washing temperature control system and temperature hysteresis with a clear display of set and current parameters
automatic water level control and correction system
system that allows saving water in the washer in the event of a temporary lack of container in the tunnel
switch on the dispenser together with indication of detergent shortage
safety switches
container counter
SCADA monitoring system (option)
water consumption measurement (option)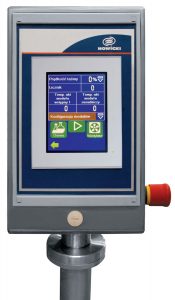 The 3000 container / hour capacity MP-3000 washer is equipped with two, independently controlled washer lines under one housing. The structure of the device facilitates expansion of the line with different modules, which, depending on the expectations of the target recipient, provide better wash capacity and/or less water after the air blow-off process.
The MPA-1200 and MP-3000 industrial machinery feature a new, self-aligning container clamping system which adjusts to the container without operator interference.
Type

MPA-1200

Efficiency
containers/h
1200
Dimensions with air blow-off module

H

mm
2029
B
mm
2148
Length
mm
11775
Weight
kg
2800